A Large Team of Multi-Lingual Male & Female Dentists Dedicated To Providing Excellence In Service
The SmileCo team is a thriving and committed team of General Dentists, Oral Health Therapists and Hygienists who work in tandem to offer our patients the highest quality of care. We provide an unrivalled service through our experience, respect and care for our patients focusing on spending quality time on your treatment.
Our large team of both male and female dentists are fluent in a range of languages including Vietnamese, Indian and French. When making a booking, let us know if you need assistance communicating with our staff.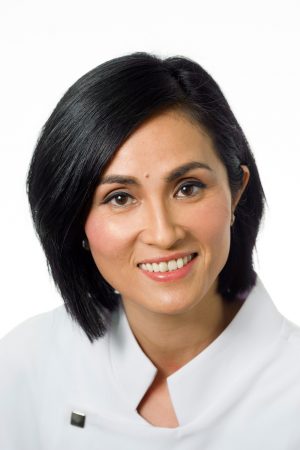 Dr Phuong Tran
Dr Phuong Tran has over 15 years of general dental experience. After graduating from the University of Adelaide in 2000, she worked in Mildura for 4 years practicing all aspects of general dentistry on patients of all ages, then she moved back to Adelaide after getting married in 2004.
Read More
She enjoys practicing general dentistry on patients of all ages, with a special interest in cosmetic dentistry, in particular, tooth-coloured restorations, crowns and bridges, and implant restorations. She particularly enjoys treating children.
Phuong believes in providing professional and gentle dental care that is up to date and evidence based, in a cost-effective manner to achieve the best results for my patients.
When she is not working, she enjoys keeping fit and bike riding. She usually rides or jogs with her two children and husband on the weekend.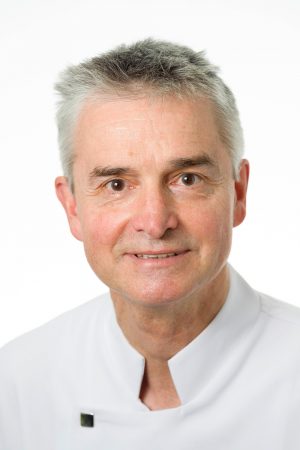 Dr John Berketa
Dr John Berketa (known as JB to his patients) graduated from the University of Adelaide. He is extremely experienced having practised for over 38 years of dentistry, he is a university lecturer and has continued postgraduate studies completing his PhD in 2016.
Read More
He has published various articles and book chapters, is a peer reviewer, has been granted awards and has presented as an invited speaker both nationally and internationally.
His main passion is in dental investigation and solving dental problems. Working with extremely worn and broken down dentitions and restoring health, function and pride to patients gives him great satisfaction.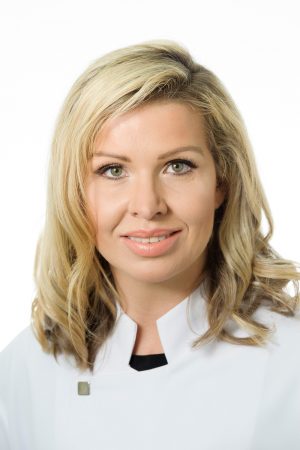 Dr Louise Cooper
Dr Louise Cooper graduated from Kings College London in 2000. Louise has been in private practice for 15 years before joining the team at Smileco. Louise is positive and focused and enjoys all aspects of dentistry with special interests in the fields of cosmetic dentistry and oral surgery.
Read More
Louise has undertaken considerable postgraduate studies in various aspects of dentistry to increase her skills and knowledge in order to provide her patients with a higher level of service and quality care.
Louise is a proud mother of two young boys, Sebastian and Hugo and enjoys travelling and fitness and has a keen interest in food and wine.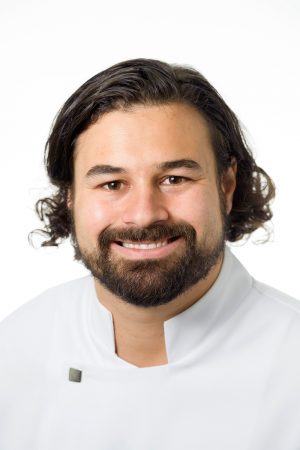 Dr Alex Dellamalva
Dr Alex Dellamalva was born and raised in Adelaide. He graduated with a Bachelor of Dental Surgery from the University of Adelaide in 2011 and has been practicing at Smileco for over 4 years.
Read More
Alex enjoys practicing all aspects of general dentistry. He takes pride in delivering high quality treatment in a gentle manner. He believes in the importance of spending time treating patients with anxiety to ensure that their individual needs are met. He particularly enjoys working with children to teach them important dental habits in a fun and relaxing environment.
Alex has taken a recent interest in custom made anti-snoring devices and believes in constantly learning new techniques. He regularly attends lectures and courses to ensure that dental work of the highest quality is provided.
Outside of work Alex plays amateur football, loves to travel and spend time with family and friends.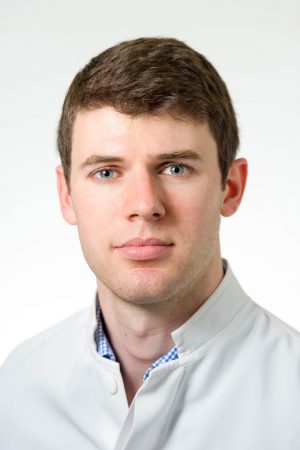 Dr Carl Maddern
Dr Carl Maddern graduated with a Bachelor of Dental Surgery from the University of Adelaide in 2012. He enjoys all aspects of dentistry, with a particular interest in cosmetic work and new treatments to help with receding gums. After spending two years in the Barossa Valley of South Australia Carl has returned to the city and found a new home in Norwood at Smileco.
Read More
Dr Maddern understands that dentistry can often feel intimidating and opaque, and will work hard to make you feel comfortable throughout your treatment. He has a keen interest in new dental techniques, and can regularly be found attending conferences and courses to help further his education.
Outside of dentistry, he enjoys travelling the globe with his wife Amanda and their daughter Hannah, skiing, movies and playing with his 3 year-old spoodle Henry.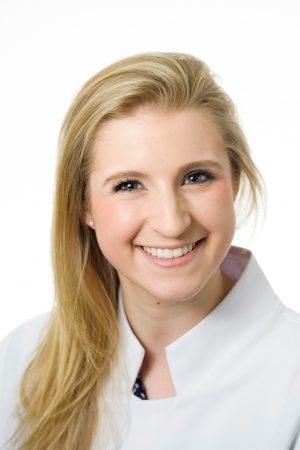 Dr Caroline Petroff
Dr Caroline Petroff graduated with a Bachelor of Dental surgery and Honours in Dental science from Adelaide University. With experience gained in Tasmania, Noarlunga and at Gilles Plains, Caroline has spent the last three and a half years working in Norwood.
Read More
This is where she has developed her interest and abilities in orthodontics and is adept at providing Invisalign® treatment. Caroline also has a keen interest in cosmetic dentistry such as veneers, crown and bridge and implants, in which fields she is constantly continuing professional development.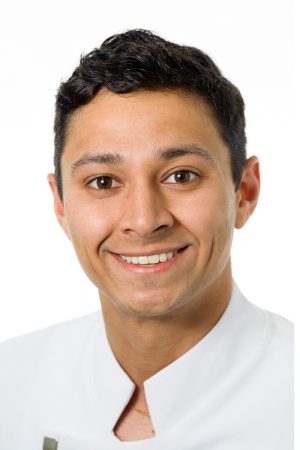 Dr Hayden Brooke
Born and raised in Perth, Dr Hayden Brooke graduated with a Bachelor of Dental Science with Honours at the University of Western Australia in 2013. For three years he worked in Perth alongside his father, a fellow dentist, and spent time furthering his education with a particular interest in dental implants.
Read More
Dr Brooke moved to Adelaide in 2016 with his fiancée, Emily and was excited to join the team at Smileco. Hayden enjoys all aspects of dentistry and believes in tailoring dental treatment to the needs of each individual in a caring and professional manner. He is skilled in the placement and restoration of dental implants and finds great satisfaction in replacing missing teeth for his patients.
In his spare time, Hayden loves spending time outdoors in his running shoes and on his bicycle. He loves to talk Aussie Rules Football (and can always use advice with his tipping!), as well as travel destinations and the best places to eat and drink around his new home in Adelaide.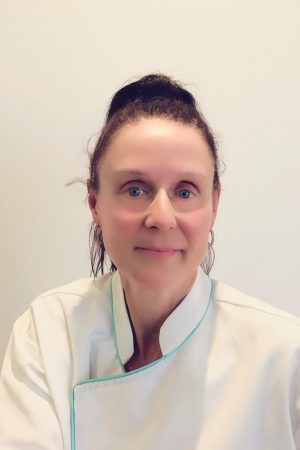 Dr Monica Malone
A qualified Dentist since 1999, Dr Monica used to work many years ago at our clinic's previous location and has since gained experience working in a couple of different clinics over Adelaide. We are glad to welcome her back home to Smileco. Monica feels very happy and proud in helping her patients to maintain a beautiful, healthy smile.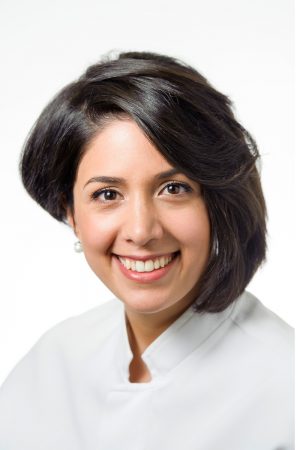 Dr Shayda Mortal
Dr Shayda Mortal has been working for Smileco for a number of years. She has also worked as a clinical supervisor at University of Adelaide Dental School, training students in restorative techniques. Since the time she started here, Shayda has developed a great reputation as a family dentist.
Read More
With a daughter and son of her own, Shayda understands the importance of offering quality dental care to both adults and children.
Shayda regularly attends specialty-training courses and is experienced in various aspects of dentistry, including general and cosmetic dentistry, crown and bridge work, tooth whitening, and is a registered Invisalign provider. In her spare time, Shayda enjoys spending time with her husband Alex and their children Layli and Ari.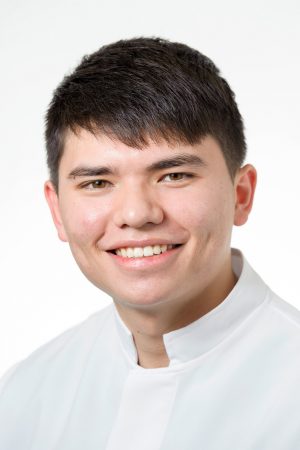 Dr Rafael Dance-Hooi
Dr Dance-Hooi graduated with his Bachelor Of Dental Surgery from the University of Adelaide in 2013. During his practicing career he has enjoyed many diverse working environments that have expanded his skills and now enhance the dental care he offers at Smileco Norwood.
Read More
His time working in an Emergency Clinic has developed his ability to relieve his patients' discomfort in a caring and timely manner. His continuing role as tutor at the University of Adelaide has kept his skills and knowledge up to date with current science. Dr Dance-Hooi also attends regular professional development seminars to maintain his knowledge of advances in dental technology.
Rafael has particular interest in the areas of cosmetic and restorative dentistry, where he enjoys the satisfaction of rebuilding smiles and renewing confidence and comfort along the way.
Dr Sundeep Suaan
Sundeep (Sunny) is the newest addition to Smileco Dental Norwood. He graduated in 2012 from Griffith University on the Gold Coast, and has since been working in the private and public sector within Adelaide.
He prides himself in providing conservative dentistry and preserving teeth for as long as possible.
Read More
Outside dentistry, he likes to watch sport (particularly cricket and footy), travel and meeting up with friends.
Dr Craig Hatchwell
Dr Craig Hatchwell graduated with his Bachelor of Dental Surgery from the University of Sydney in 2011.
OUR ORAL HEALTH THERAPIST (OHT)  AND HYGIENISTS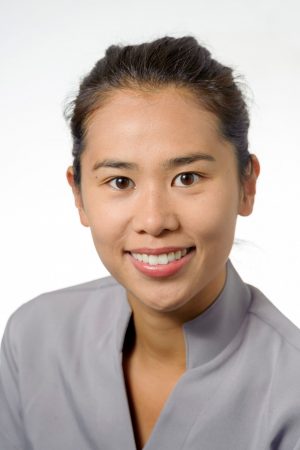 Julie Le
(OHT)
Born and raised in Adelaide, Julie Le completed her Bachelor in Oral Health at the University of Adelaide in 2012. Her philosophy towards work is to build good professional operator-patient rapport by being caring, and providing patient comfort.
Read More
In her spare time she enjoys going to the gym, reading and travelling the world.
Julie has been with SmileCo since April 2013 and thoroughly enjoys working as an Oral Health Therapist especially working with children and providing education on the importance of good oral health.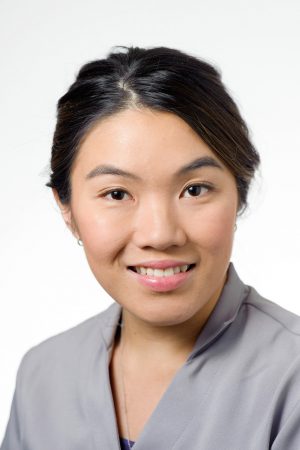 Nhi Nguyen
(OHT)
Nhi obtained the Bachelor of Oral Health degree at Adelaide University in 2012 and has been experienced in dental therapy and hygiene with the practice for the last four years. She is qualified to provide general dental treatment for all under the age of…
Read More
…18 years old.
Nhi is a gentle and friendly practitioner who aims to ensure patient comfort, especially for anxious patients and young children. She is active in expanding her knowledge and is actively involved in continual professional development. She is well trained and has had 3 years of experience in current whitening procedures.
Nhi was born in Adelaide and comes from a large Vietnamese family. She speaks fluent Vietnamese at home. Outside of work, Nhi loved sweets, wine, dining and travel whenever she can.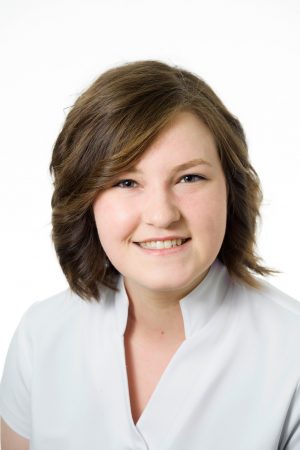 Bonnie Petroff
(OHT)
Bonnie completed her Bachelor of Oral Health from the University of Adelaide in 2015. She has previous experience in the dental profession working as a dental assistant and is a member of the Dental Hygienists Association of Australia. She has a particular…
Read More
…interest in the treatment and maintenance of periodontal disease, and current tooth whitening procedures. She enjoys working collaboratively with both patients and members of the dental team to ensure the provision of optimal and holistic dental health education and treatment.
Sylvia Nguyen
(OHT)
Born and raised in Adelaide, Sylvia Nguyen graduated from the Bachelor of Oral Health in 2013 at the University of Adelaide. Initially working at SmileCo as a Dental assistant, Sylvia thus moved onto working as an Oral Health Therapist once graduating…
Read More
… Sylvia aims to provide optimal care to her patients through the emphasis of prevention and perfecting regimes and techniques at home for good oral hygiene. Sylvia values patient experiences and thus provides a very gentle, yet thorough approach to hygiene appointments to ensure that her patients are comfortable. Sylvia particularly enjoys working with children and is continually thinking of ways to make appointments fun and innovative. As each patient is different, she ensures that appointments are tailored to each individual focusing on their chief concerns to ensure the patient leaves informed and happy.
In Sylvia's spare time she enjoys getting together with friends and finding new restaurants and eateries to indulge at. When she isn't thinking of new places to try out you will most likely find her thinking of new destinations to travel to with her fiancé and friends having caught the travel bug in 2013 after her first trip overseas volunteering.
Maggie Tran
(Hygienist)
Maggie started her dental journey when she first started as a dental assistant trainee in 2006. She has completed her Certificate 3 and 4 in dental assisting and has worked in various dental specialist practices both private and public sectors. She completed…
Read More
…her Advanced Diploma of Oral Health in 2014 at TAFE SA. She is very passionate about preventative dentistry and providing optimal dental care for all her patients.
Maggie has a strong interest in geriatric dental care and in the near future, she hopes to volunteer and provide service to aged care facilities for the elderly. Maggie keeps up to date with continuing professional development courses and is a member of the Australian of Periodontology and a committee member of The Dental Hygienists Association of Australia.
In her spare time, Maggie enjoys spending time with her beloved pooch, hiking and baking up a storm in the kitchen.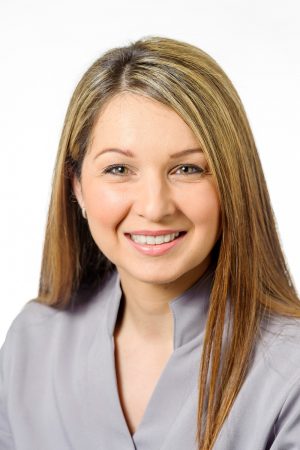 Christine Desyllas
(Hygienist)
Christine graduated as a dental hygienist in Adelaide in 2000. Christine is an enthusiastic and passionate hygienist who is committed in her role with key focus in prevention. She likes to educate her patients to the best of her ability so together they can…
Read More
…achieve optimal oral health.
Christine has also worked in Canberra where she was part of the executive team in the ACT Dental Hygiene Association. Over the years she has worked alongside dental erosion specialists, prosthodontic specialists and cosmetic dentists.
Christine has also volunteered her time with educational talks to both primary schools and nursing homes. She has the current training requirements in bleaching and is a member of the SA Dental Hygiene Association.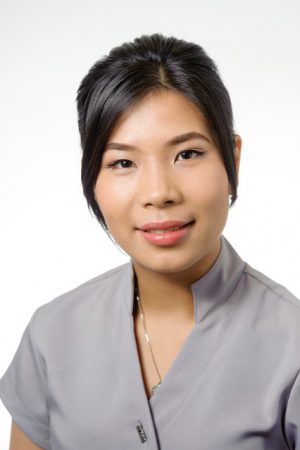 Kym Nguyen
(OHT)
Kym is a graduate of the University of Adelaide with a Bachelor of Oral Health degree. She is a gentle and caring oral health therapist who especially loves to treat children with a smile. Her goal is to show people, young and old, that dental visits can be enjoyable…
Read More
…One of the things she finds most rewarding is assisting patients with a dental phobia to overcome their fears.
She is passionate about motivating patients to maintain their oral health and understand the importance of dental hygiene. Kym is highly enthusiastic about delivering holistic dental treatment with a strong emphasis on patient management.
With a kind and gentle touch, Kym aims to make your dental visit memorable for all the right reasons. In her spare time, she likes baking and taking her dog on walks.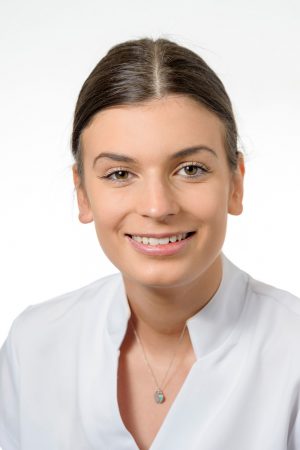 Serena Peno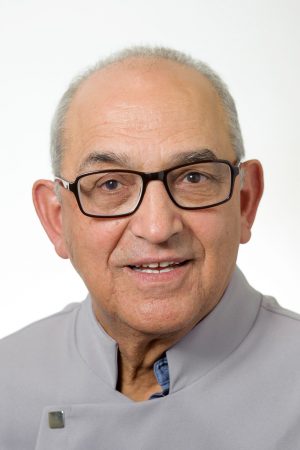 Fathi Ibrahim
Raj Dasari
(Practice Manager)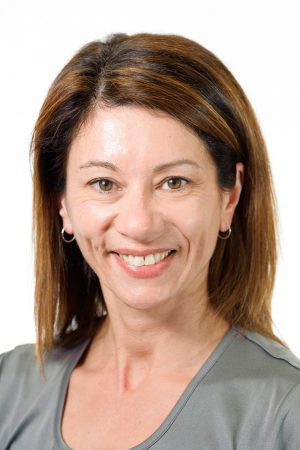 Pat Harrison
(Administration Co-ordinator)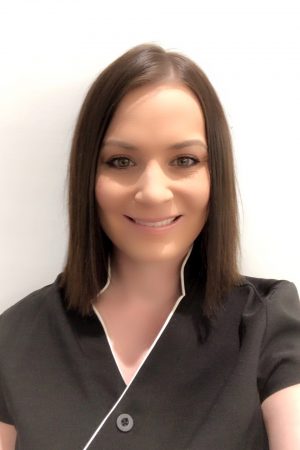 Jade Knowles
(Clinical Co-ordinator)
WHY YOU SHOULD CHOOSE SMILECO